Fabric dilemma - jersey matte (w/pic)
I bought a bunch of jersey matte for my sith cloak and skirt. I love it. In fact, it's probably my new favorite fabric. However, my problem is that I have no idea what to make the tabard and sash out of. My design is a Jedi-style cloak, tabard and sash, with a skirt, and likely a tight-fitting leotard or bodysuit in black underneath, so what I have so far are all synthetic fabrics (which I assume the sith would have no issue with...). My problem is that I went to the fabric store to try to pick the fabrics for the tabard and sash (and probably ultimately the headband as well, as I think it should match one of the accent fabrics) and I was totally uninspired. No fabric seemed right to pair with the jersey. The only thing that really even caught my eye was a black-on-black brocade, but I passed it over for being too ornate.
I'm wondering if the only suitable fabric to pair with jersey is jersey. Any recommendations would be appreciated. If I can at least narrow it down to a fabric, I might be able to find something online.
The cloak is half-done, but I'm working on it this afternoon and I can try to post a better pic tonight, but here's a photo of the unfinished - though pleated - back.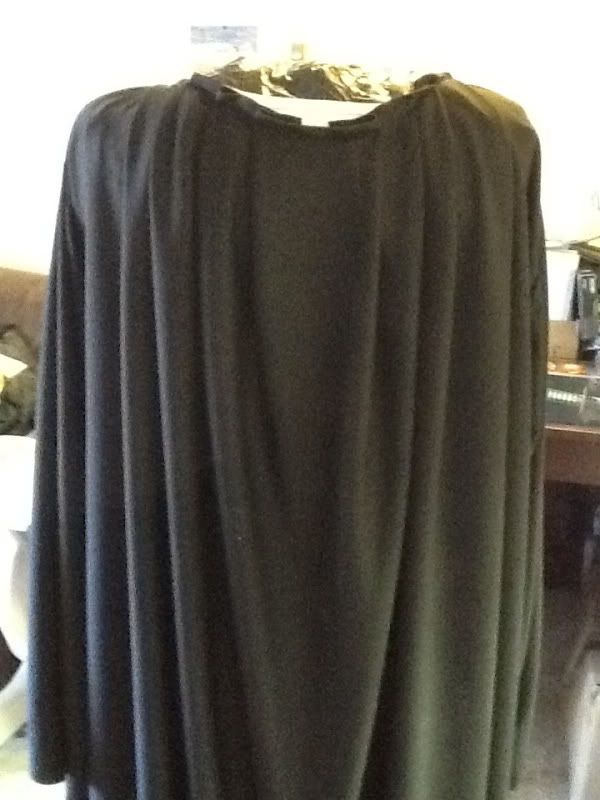 I just cannot pass up the drape I get from this fabric, but I'm not sure that the heavy drapeyness (it's a word, I swear) of the jersey would be appropriate for the tabard. I could possibly use the same fabric for the sash and headband, though.